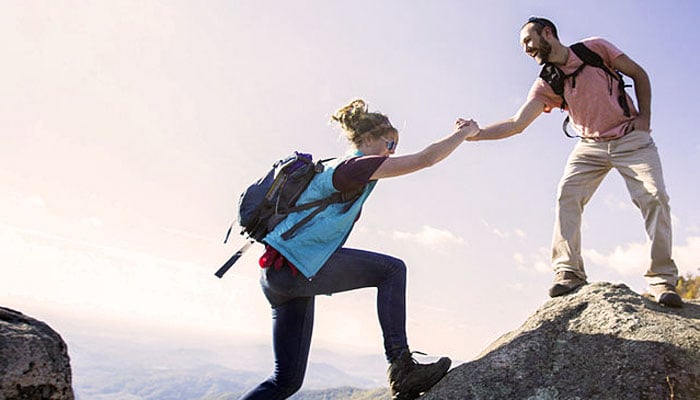 Source: Shenandoah National Park from Virginia (Helping Hand on Old Rag) [CC BY 2.0 or Public domain], via Wikimedia Commons
Longer client relationships streamline your business in a way that allows you to do more of what you love and less of the stuff that you don't. It is a scalable way to expand your business without having to increase your overhead to find more clients. Not to mention, longer client relationships often become the best environment for quality work. Here are seven tips on how to have longer and more fruitful relationships with your clients.
1. Talk Often and Explain the Big Picture
If you think your clients are sick of talking to you, it's time to get over it. There is no way that you are communicating
too
much! Clients love to know what is going on with their company—especially if it has to do with their money. Don't just "keep them in the loop" or assure them everything is fine. Let them know in detail about each action that you're taking, and how it relates to their larger goals.
2. Discuss Problems Realistically and Openly
This is a big one since it can hugely affect budget, timeline, and perhaps even outcome. If there are problems, lay it out on the line and don't candy coat it. Your client will respect you more if you're honest, and you'll develop a greater understanding of the relationship between you.
3. Establish What You Need From Your Client
If you're waiting on some feedback from a client, let them know exactly what you need. Let them know if you have to suspend further work before feedback, guidance, or information. I've worked in tandem with other consultants who've got into trouble because the client didn't know what the consultant needed to move forward. Make your needs explicitly clear, and tell the client exactly how to provide it. If you can have some sort of form for common situations that arise in client management, use it to ensure interactions run smoothly and leave the shortest possible lag time.
4. Be Able to Illustrate ROI
Clients love metrics. It shows not only their own return on investment, but your dedication to the project. Get some lovely, beautiful graphs and give them the metrics that matter—not the ones that don't.
5. Meet Deadlines and Expectations
Be punctual to meetings. Do the action that you say you are going to do. Care about the company that you are doing work for. This may seem like common sense, but you'd be surprised how many people don't take pride in their work. Be sure that your client will definitely notice the difference.
6. Lay Money Out Very Openly
Have a budget meeting in person, and make sure any murkiness is laid out before the project begins. Have a backup plan organized, and allow for a certain amount to be dipped into in an emergency. Are there any changes in the budget that could happen along the way? Talk them out, and make sure the wiggle room is agreed upon in the beginning so that there are no nasty surprises.
7. Be Classy
Send a note and a small gift when your work together is done and tell them how much you appreciated the experience. People remember that kind of thing because it isn't necessary. Another way to keep on their good side is to refer them some business or a consultant for another service they need. Got connections in your client's industry that are worthwhile? Send them their way, and reap benefits from your good will.
8. Follow Up
Once the project is completed, don't feel that it is overkill to check in and see how everything is going. Around a month later is appropriate. Then, check in at six months, and perhaps a year. The client may say that everything is going great and they need no help at this time. Or, they may have interest in hiring you for a second job.
9. Ask for a Testimonial
Following up after the completion of a project is an excellent time to ask for a testimonial. Or, even better, ask the client to recommend your services to their network.
10. Be Consistent
There's no point scheduling a regular call or meeting if you miss it. There's no point promising regular reports and then not delivering. Whatever you do, do it consistently—it's the best way to create openness, trust, and mutual respect. Longer client relationships allow for huge benefits, less money spent on acquiring new clients, less time adjusting to the needs of new clients, and more time doing the stuff you love. Best part is, it doesn't need to be difficult.
For more great tips on client relationships, listen to my interview with Joey Coleman about onboarding customers on the Marketing Speak podcast.