Recognized as a prominent SEO and online marketing expert, Stephan Spencer has written 3 books sharing his mastery and expertise. He is the author of Google Power Search, and co-author of The Art of SEO and of Social eCommerce. The Art of SEO has consistently been an Amazon best-seller and can be found in most bookstores.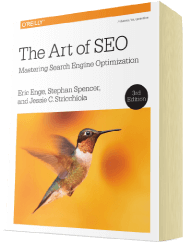 THE ART OF SEO
Master Search Engine Optimization
by Stephan Spencer, Eric Enge, and Jessie Stricchiola. 3rd edition (August 2015), first published in 2009 by O'Reilly Media.
The Art of SEO Website
Even a well designed, user friendly website is worth nothing if it doesn't get any visitors. In order to be successful in a virtual economy, it's vital to optimize your site for search engine visibility. Written by four of today's most prominent search engine optimization (SEO) experts, The Art of SEO guides you through the innovative techniques that will help you to design and implement a complete and thorough SEO strategy. The authors take you through the basics of SEO and point out common misconceptions. Even beginners will walk away with a comprehensive education in SEO, including a repoertoire of elementary and advanced optimization tactics. The book also serves more experienced SEO professionals as an extensive reference of SEO best practices. To learn more about the book, check out The Art of SEO website. Want a sneak peek into some of the great insights the book can offer? Click here to download a free sampler!
Understand the fundamentals of SEO by understanding how search engines work

Master the steps necessary to design, implement, and evaluate SEO campaigns

Explore a variety of advanced methods and techniques

Learn the complexities involved in advanced SEO project management

Gain the knowledge you need to develop a strong team of clearly defined SEO practitioners

Get a sneak peek at the future of search and understand where the SEO industry is headed.
---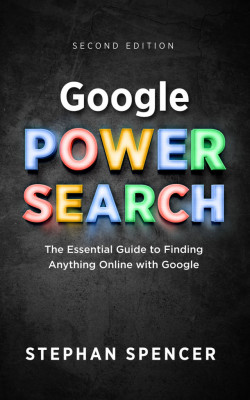 GOOGLE POWER SEARCH
The Essential Guide to Finding Anything Online With Google
By Stephan Spencer. Self published, 2017. First edition published by O'Reilly, August 2011
Google Power Search Website
Behind Google's deceptively simple interface is immense power for both market and competitive research—if you know how to use it well. Sure, basic searches are easy, but complex searches require specialized skills. This concise book takes you through the full range of Google's powerful search-refinement features, so you can quickly find the specific information you need. Learn techniques ranging from simple Boolean logic to URL parameters and other advanced tools, and see how they're applied to real-world market research examples. Check out the Google Power Search website for more great tips on optimizing your search.
Incorporate advanced search operators such as filetype:, intitle:, daterange:, and others into your queries

Use Google filtering tools, including Search Within Results, Similar Pages, and SafeSearch, among others

Explore the breadth of Google through auxiliary search services like Google News, Google Books, Google Blog Search, and Google Scholar

Acquire advanced Google skills that result in more effective search engine optimization (SEO)
To learn more about Google Power Search, or to order a copy of this book, please visit the Google Power Search website.
---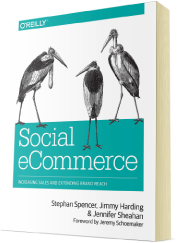 SOCIAL ECOMMERCE
Increase Sales and Extending Brand Reach
By Stephan Spencer, Jimmy Harding & Jennifer Sheahan
Social eCommerce Website
Co-author Stephan Spencer, a highly respected expert in SEO, e-commerce, online marketing, and social media, offers a detailed narrative and case studies on successfully using social media to increase online sales. Most books only cover the basics, such as establishing an advertising account and integrating social media "share this" button bars on product pages. By contrast, Social eCommerce explains:
The theory behind social media marketing and campaign targeting

The practice of designing ads, company pages, landing pages, and more to achieve better results

This book delivers superior strategies for increasing e-commerce sales by using the author's extensive knowledge of real-world client challenges in social media, search engine optimization, and online commerce.
Read the praise for Social eCommerce book at SocialeCommercebook.com Want to take a look inside the first chapter? Click here to download a free sampler!
---