If podcast appearances aren't part of your media strategy, why do you even have one? Landing a guest spot on a successful podcast can get your message in front of thousands or even millions of listeners. 
More than that, a half- or one-hour podcast interview allows you to stretch out and go deeper into your expertise than a five minute TV spot or a 500 word article. It's an excellent way for people to get to know you and really understand where you're coming from. 
So, how do you land a guest spot? 
Unfortunately, this is the hard part: you're going to have to pitch! 
If you have any experience with media at all, you know that pitching is an art form. An ill-thought out subject line or a badly worded email can land you in the trash quicker than you can say "I love your podcast and just wanted to say…"  
Sending out a generic email blast to every podcast on the planet is also a very bad idea. 
Ideally, you should have
at least
listened to one episode of any podcast you're pitching, hopefully more. You should also have a good understanding of the show's demographics and what value you might be able to offer the host and the audience. 
Expecting a podcast host to approve your guest appearance simply because you published a book, run a successful company, or have a million Twitter followers is pure arrogance. 
Most podcasters want to delight and entertain their audiences. The point of pitching is to show them how you can help them deliver on this promise. 
The Wrong Way to Pitch a Podcast
As the host of a two successful podcasts that have featured many high profile guests including BJ Fogg, Seth Godin, and Matt Mullenweg, I get pitches all the time. Including from people who obviously have never listened to my podcast. 
Just last week, I received this pitch. It's a classic example of what
not
to do, so I thought I'd share it as a teachable moment.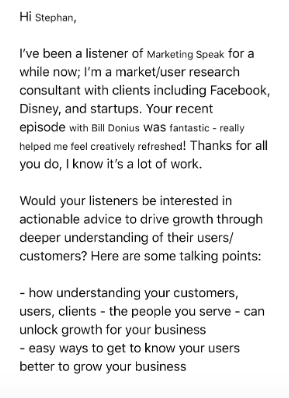 The first thing you'll notice is the different font sizes. This is obviously a generic template where someone has played "fill in the blanks". Is this person a listener to Marketing Speak? After reading this, I suspect not, which immediately ruins their credibility. 
It always pays to be real. If you're not a regular listener, that's fine. You don't have be disingenuous or engage in unnecessary flattery. 
What's important is the value you are offering.  
I understand that it's tough to write a new email every time, but even if you work from a template you should be thoroughly reworking it for each pitch.
Next, let's take a look at their value proposition. One of the problems with sending a generic pitch email is that you pitch is going to be, well… generic!  
Of course my listeners are interested in growing their businesses, but the focus of this podcast is marketing. What unique, marketing-related insights will this guest bring to the table to wow my me and my listeners? 
The Correct Way to Pitch a Podcast 
While I've had to wade through a lot of bad pitches, I am also occasionally impressed by a pitch email. This was a pitch that I also received last week: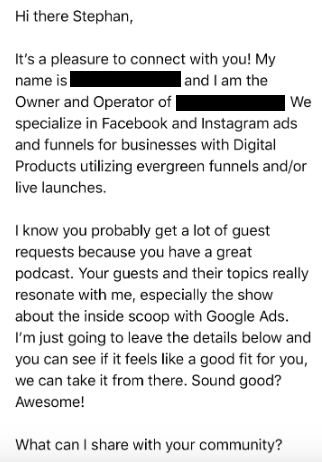 Straight away you can tell this is not an email blast or a template. This person has obviously taken the time to research my show to understand if they might be a good fit. And, they didn't lie to me! 
They have also given me a good idea of their specific area of expertise (Facebook/Instagram ads and funnels) and even asked what my audience might be interested in.
The lesson: Be Real. Be specific. And, offer value. 
As with everything, you'll have more success if you develop a repeatable process. Here are my 10 tips for crafting the perfect pitch… 
Create a "one sheet".

A one sheet is a nicely designed PDF with your brand and logo that includes a bio, three to five interview topics with suggested interview questions, and all your contact information including your Skype address, email, website, and social media handles. If you can, work with a professional designer to create it.  

Your bio is important. Spend time crafting a short but engaging bio that demonstrates your value and emphasizes results (client wins, business successes), awards and accolades, media appearances, books, and speaking gigs. According to Jessica Rhodes of Interview Connections, you should always write your bio in the third person. 
Do your research!

You want to make sure you're going to be a fit, so at least listen to one or two episodes. Also, be careful as some podcasts don't accept unsolicited pitches. 

Spell check everything.

Typos make you look unprofessional and unprepared. If you're not a grammar expert, try using a program like Grammarly to make sure you get it right. 

Stand out by adding personality.

No one wants a boring podcast guest, so don't be afraid to inject a little personality into your pitch. You don't have to go crazy, but being yourself may help you stick out. 

Subject lines are essential.

Don't just send an email titled "Podcast guest". I once got an email with a subject line that read, "Whiteboard Timmy is sad." It's so off the wall, I opened the email and wound up booking the sender as a guest!

Don't be afraid to follow up.

We all have cluttered inboxes, so even if your pitch is awesome, it can sometimes be missed. It never hurts to follow up after a few weeks. Just make sure you are respectful and tactful in your follow up emails. 

Know what you want.

Are you looking for exposure, leads, or are you trying to grow your own podcast audience? Knowing what you want will help you craft a more targeted pitch.

Understand the host's goals.

Why did this podcaster start a podcast in the first place? Are they trying to get famous, promote their business, or is it just a hobby? If you can help the host achieve their goal, they'll be much more open to having you on the show. 

Network, network, network.

As I mentioned earlier, some podcasts don't accept pitches. Others have highly-curated guest lists that are difficult to crack into. Having a relationship with these hosts outside of podcasting could be a foot in the door. 
Good luck!
For more great tips on pitching podcasts, check out my interviews with
Jessica Rhodes
and
Nicole Holland
on the Marketing Speak podcast.