As an SEO, one of the most common questions I get is, "How long will it take for me to rank for X term?" Given all the different factors that can affect a website's Google ranking it can be notoriously difficult to give a simple answer to this question. If a thorough audit has not been done on the site, it can even be
impossible
… Instead of trying to give a one-size-fits-all timeline, I find that it's easier to explain the most common challenges SEOs face when taking on a new client. In essence, the quicker you can overcome these roadblocks, the faster your SEO will be able to get the job done.
The True Story Is Often Hidden
A lot of the technical side of SEO is troubleshooting. When a site is underperforming there are many reasons why that might be the case. The same is true for increases in traffic or rankings: the reasoning behind Google's algorithms can often seem opaque. It takes time to figure out the underlying causes for success or failure. For example, did a recent Google update mean that something that was done to the site in the past is now recognized as bad practice, and deemed worthy of a penalty? An issue such as this may cause a huge drop in rankings—yet many clients may rush to blame the SEO consultant, even as he or she is working to fix the problem. When you hire an SEO, it's important to be open to the fact that there are many variables that can affect your rankings. Remember that your SEO is working with all the decisions (and mistakes) that have been made on your site throughout its existence: every content update, every redevelopment, and every rebranding. That's why it's incredibly important to start out an SEO relationship with a thorough audit of your website. Once you understand all the issues that are dogging your site and stopping it from ranking, you can develop the right plan of attack. Without a detailed map of what's currently going wrong, you'll be flying blind.
Size Matters
If you ran a huge corporation with dozens of departments and you hired a business consultant to optimize your internal systems, you wouldn't expect results in a week—or even a month. It's the same when you're talking about huge, complex corporate websites with tens of thousands of pages and large teams who manage them. Often times an SEO will have to work within your existing systems and processes. Even the simplest changes may need to go through a complex chain of approval before they are implemented. A lot of time can be spent waiting in the wings for these processes to run their course. That's why cooperation is essential—especially when you're talking about the IT department and the marketing and social media teams. How quickly these groups can work to get changes approved and enacted can directly effect how long it takes to see results. SEO is not just adding a bunch keywords to your site and waiting for it to rank. It affects every aspect of your online strategy, from your content and social media to your site architecture. It's important not to underestimate the workload that you are undertaking.
Virality is Complicated
Once upon a time it was possible to simply upload a few well thought-out blog posts, do some intelligent promotion, and attract a lot of eyeballs. Nowadays competition is stiff, audiences are jaded, and virality is incredibly hard to predict. Rather than jumping on every trending topic hoping to attract a few clicks, you need to develop a long-term content strategy that is tailored to the information needs of your audience. That means regular posts across all your social channels, creating content in a range of mediums (live video, podcasts, blog posts), and, most importantly, paying attention to your analytics. When a client is not open to creating innovative, engaging content in order to attract links and traffic, it can limit an SEOs ability to achieve quick rankings.
What This Means When You're Hiring an SEO
Never trust an SEO that says they will guarantee the number #1 spot in 6 months or less. Usually serious SEO work, especially on a site that has a lot of issues, is going to take at least a year to start showing substantial results.
Ask for a timeline when you bring your SEO on board. Then, ask for another revised timeline after the initial audit is done.
Don't look for rankings, look for growth. Find an SEO with leadership skills and an impressive track record of working with companies to achieve holistic change rather than just landing rankings for a few keywords.
Find someone who breaks the SEO strategy down into small, actionable goals. To achieve results, you'll have to work at a steady pace—the last thing you want is someone that overwhelms you with too much information.
Don't focus on fast results; focus on lasting results. What rankings can you achieve that can be kept up over time?
Ask for reports that target what is being done and how this will improve your overall growth. Success isn't landing the number one spot for one keyword, it's about overall growth in traffic and sales.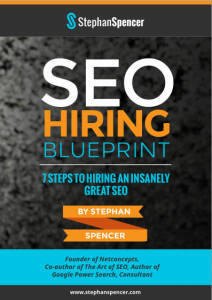 It can be hard to find a truly expert SEO consultant when you know little about SEO yourself. In this free guide, Stephan reveals his top tips and tricks to measure whether an SEO consultant's claims are worth their salt. Download it right now to save your company thousands in wasted consultant fees and lost leads due to bad SEO advice or implementation.