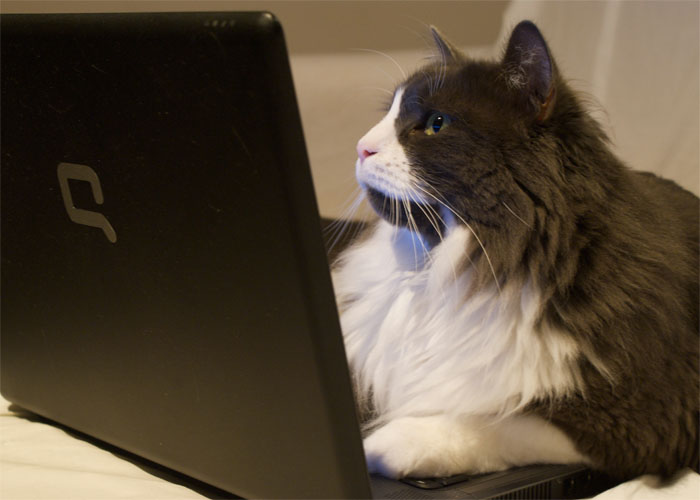 By Wilson Afonso from Sydney, Australia (Just browsingUploaded by JohnnyMrNinja) [CC BY 2.0], via Wikimedia Commons
You have a website. Now you need content. Good content, of course! But what does that even mean? Well, first you want people to read your content. Second, you want people to enjoy it. And last (but not least) you want people to find it useful—useful enough that they want to take action. Sounds great. But how do you actually create content that does all that? Let's break it down:
1. Your Headline is Super Important
A great headline is the key to cutting through the noise and grabbing the reader's attention. 38% percent of people don't read past an article headline after they've clicked. They simply "like" it and then promise themselves they will go back and read it! (Most of them don't FYI.) That means your headline needs to be
amazing
.
The Elements of an Effective Headline:
a) Succinctness:
Describe an action that people can take without even reading the article. This plays into the statistics that I mentioned before. People want a headline that they can look at and say, "That's what I'm talking about!" and share it.
b) Boldness:
Your headline should use powerful words that evoke an emotional response in the reader. Aim for headlines that cut into the meat of what people want. If you can, challenge clichés or lazy thinking with your headline. As with most things, you can learn a lot by looking at the best. Whatever you think about Buzzfeed, they certainly know how to write a click-worthy headline. Take, for example "28 Ingenious Things For Your Dog You Had No Idea You Needed," or "Creepy New Political Ad Is Easily One of the Creepiest Political Ads of All Time." Buzzfeed writers are experts at piquing curiosity, pushing emotional buttons, and making people want to click. For a detailed analysis of what makes a Buzzfeed so clickable, check out
this amazing article over at Buzzsumo
where they analyzed 100 million Buzzfeed headlines.
c) Size matters:
Headline size is also important. One study noted that headlines shouldn't just be bolded, they should be in a larger font than the other text on the page in order to increase engagement.
2. Reel Them in With the First Sentence
Once you've got their attention with the headline, the text in the first few sentences is key to getting the audience to read further. Journalists have known this for years with the "inverted pyramid" technique: put the meat of the story at the beginning, important details in the middle, and then finish with other general background information.
3. Break Up the Text With Images
Buzzfeed really knows what it is doing when it has all of those photos interspersed throughout the content. People
love
looking images. You don't want to simply fill up your posts with a bunch of random photos. Make sure the images are entertaining, and add value to your post. While stock photography can be a little boring, you can quickly and easily embed Instagram posts, or if you're really serious, allocate a budget to buying bespoke images or hiring a professional photographer.
4. Pay Attention to Your Analytics
If you want to create content that your audience loves, then you absolutely have to measure what works. Pay attention to how long people spend on the page. Do they immediately click away, or do they spend several minutes and read the whole article? What topics get shared the most? Which posts get the most clicks—and, where are those clicks coming from? By continually tweaking your content, you will eventually come up with a winning formula for giving your audience exactly what they want.
5. Make Content That People Actually Want to Read
Don't waste time trying to come up with ideas on your own. Look to your audience for hints about what they want. For example, look at the comments of previous posts, forums in your niche, or posts on your Facebook page. Check out Quora to see what type questions people are asking, and the answers they are looking for. Tools like BuzzSumo are also great for getting ideas on what type of blog posts are being written about in your niche, which ones are getting shared, and what type of keywords people are using. Try picking a popular blog post as an inspiration, and brainstorming a fresh take on it. For example, say you have a post that performed well titled, "How to Increase Blog Traffic in 5 Easy Steps". How about spinning that in a different direction like, "5 Mistakes That Are Killing Your Blog Traffic"?
6. Include a Call to Action
Often, it isn't enough to woo people with words—they don't just want to read about their problem, they want to solve it. Make it as easy as possible for them to take the next step. Including a call to action at the bottom of your blog posts will usually generate a high click through rate, but you'll need to test and measure to see what works for you. Also, try using a tool like Pop Up Monster to create pop ups for your blog and see if that increases your click through rate or conversion rate.
7. Add a Little Something Extra
If you want people to take action, why not offer them a little freebie? For maximum impact, make sure it's related to the information in the post. This gets them more invested in your brand and expertise. Say you put up a post with tips on cold calling. If someone reads that post, they are obviously interested in learning more about cold calling, so why not offer them a whitepaper like, "50 Unmatched Tips for Making Cold Calls." If your article is good, then they'll have no problem handing over their email to get more information.
For more great tips on content marketing, check out my interview with Clare McDermott on the Marketing Speak podcast.