For marketers, social media is both a blessing and a curse. We spend precious time crafting posts in the pursuit of likes, retweets and mentions—only to come up empty handed. While we may have thousands of followers on Twitter and Facebook, the reality is that only 5 to 10 percent of our followers see our content.
The other 90 percent?
They never see a given post. That means many of our carefully crafted messages go unseen and slowly join the ranks of the forgotten memes, GIFs, and trending content of yesterday.
I sat down with
Laura Roeder
on a
recent episode
of my podcast,
Marketing Speak
, to address this issue. Laura is the founder of
Edgar
, a social media automation tool that is revolutionizing the way marketers approach social media. Her platform helps social media content reach a much bigger audience through the power of repurposing.
Here are five key takeaways from my conversation with Laura:
1. Treat Every Platform Differently
There's no one-size-fits-all approach to increasing your reach on social media. Every platform should be treated differently.
Take Twitter, for example. The number one reason people miss your tweets is because of timing. Your most loyal follower might miss a golden tweet simply because they weren't online when you posted. As such, it makes sense to post multiple times per day so that every follower is included, no matter their time zone.
Facebook, on the other hand, promotes posts based on engagement. The more people engage, the more Facebook rewards you. You need to be selective and analyze what factors contribute to higher engagement. Carefully craft your social media strategy around the platform, its algorithm, and its user behavior.
2. You Want to Be Late to the Party
This might seem counterintuitive to marketers who are always looking to be an early adopter of the next big thing. But it pays to be patient when it comes to social media.
Think about all of the social media platforms that have flamed out in the last few years: Meerkat, Periscope, Vine. As a marketer, it's critical to follow the crowds. It takes time to understand where exactly the crowds are on social media platforms.
Take Snapchat, for example. A year ago, marketers were rushing to establish themselves on this growing platform. Today? Snapchat is haemorrhaging users to Instagram. Plenty of businesses are already marketing themselves on this app. With a growing user base, however, Instagram is still ripe for the picking. The lesson is to wait for your audience to reveal their behavior before rushing to post.
3. Beware of the Personal Profile
As an SEO consultant, I've spent years cultivating a strong Facebook presence. I may have thousands of friends, but I'm also careful not to inundate them with self-promotional posts. Posting "salesy" content too frequently isn't just annoying to family and friends. It's also a poor use of resources.
Social media marketing is all about targeting the right audience. Your reach may be higher on a personal profile than a page, but the people you're reaching aren't warm leads. Not only does Facebook disallow advertising on personal profiles, it also caps the number of friends you can add.
Treat your personal profile and your business page as separate entities. Your friends (and your customers) will thank you later.
4. Don't Be Afraid to Go "Live"
It's no secret that video is taking the marketing world by storm. If you're not utilizing Facebook Live as part of your social media strategy, it's time to start. Many marketers get discouraged when they only reach a few dozen viewers during a Facebook Live. But by using tools like Edgar, you can repurpose your Facebook Lives to massively expand your reach.
As part of Edgar's marketing strategy, Laura conducts a weekly Facebook Live in which she discusses a recent blog post. She then adds the video recording to the Edgar Facebook page to expand the video's reach. In as little as 15 minutes, Laura and her team create a video that amasses thousands of views. Facebook Live is an easy way to get more eyes on your content, hassle-free.
5. Rely on Software to Minimize the Busy Work
Social media can be a huge time suck. Not only do you have to carefully select content for your followers, you also have to optimize your posting times and frequency to maximize your reach. That's where social media posting tools (like Edgar) come in, because you can plan your content ahead of time and let the software do the heavy lifting.
Scheduling posts doesn't mean you also have to generate a pile of new ideas for shareable content. Instead, Edgar stores all of your social media content in its library so you can repurpose previously shared content.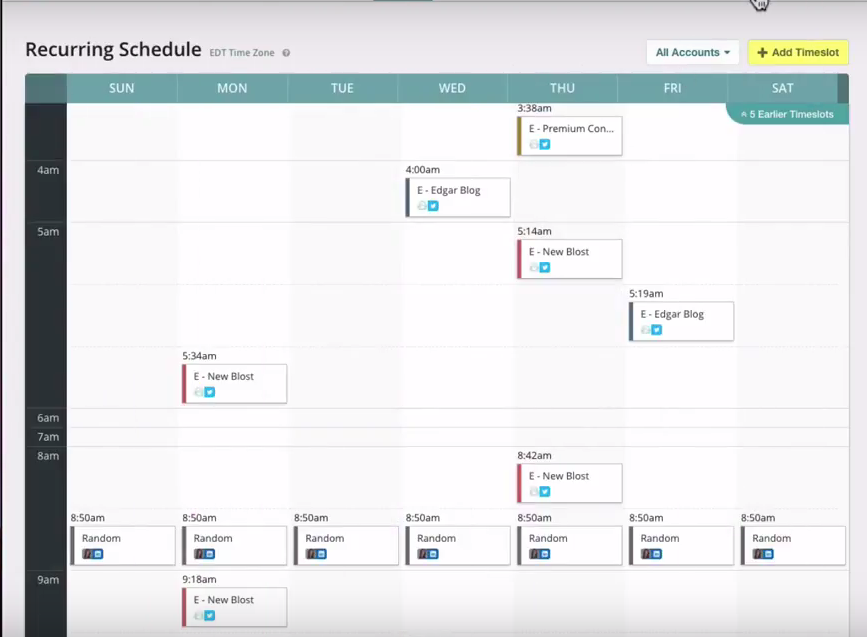 Start by loading your content–blog posts, videos, promotions–into the library, assigning each item to a category. Then, pre-schedule your weekly posts from that library. You can view your social media queue to add or remove new content.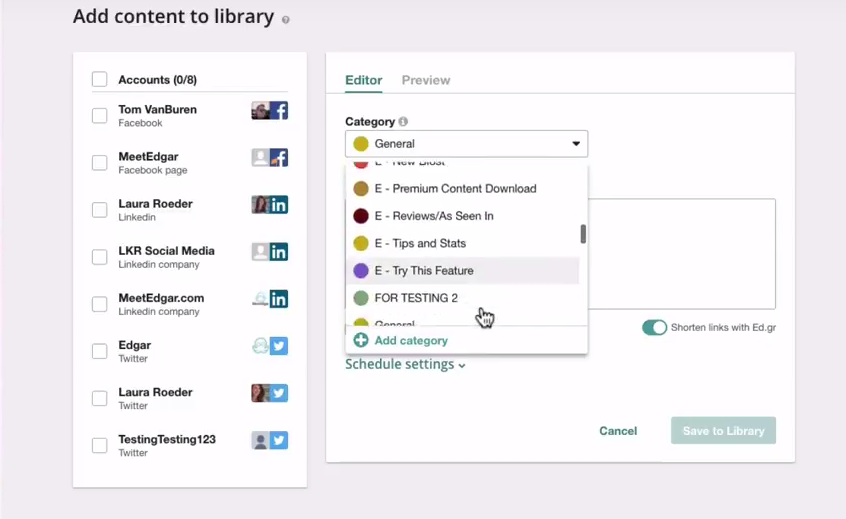 By scheduling around categories and existing content, you can save your team hours of tedious scheduling work each week.
Then, just sit back, relax, and watch the likes pour in!
For more great marketing tips, tune in weekly to the 
Marketing Speak
podcast.