Branded Terms Made Up 30% Of This Site's Traffic—Now Their Conversion Rate Is Through the Roof
AMain Hobbies is a leading online retailer of remote controlled cars, planes, drones, and other toys based in Chico, California.
AMain operates an e-commerce site with over 60,000 product pages. As you can imagine, a site that large is a significant challenge to optimize.
In 2013, AMain found that although they were receiving a substantial amount of organic traffic, they were not ranking for many key product terms in their niche.
In fact, over 30% of their traffic at that time was coming from branded searches like "amain hobbies".
AMain knew that missing out on product searches meant one thing: they were also missing out on sales!
But how could they fix their rankings and dominate the Google results for remote controlled toys and vehicles?
The Problem
When AMain contacted Stephan, they were relatively happy with amount of traffic they were receiving. However, their competitors were beating them in the rankings for lucrative terms such as "traxxas," a popular model of remote controlled car.
In order to get an edge, they had to take action.
Stephan immediately conducted a deep-dive audit of AMain's website.
What he found were a lot of basic errors, including technical issues, content problems, and incorrect meta data, that were holding them back.
The good news was, many of these issues were relatively simple to remedy. But, as you can imagine, rolling out code and content updates over 60,000 pages presented a significant challenge.
The Fix
After the audit, Stephan presented AMain with a list of recommendations, and guided them through the implementation.
Over the following months, there was a noticeable increase in traffic.
Between the end of 2013 and the beginning to 2014, AMain went from around 75,000 visitors per month to around 140,000 visitors per month—almost doubling their traffic.


Objectively, this was a disaster.
Over the following months, AMain struggled to regain their rankings. In an act of desperation, they even switched back to their old domain. However, it was too late.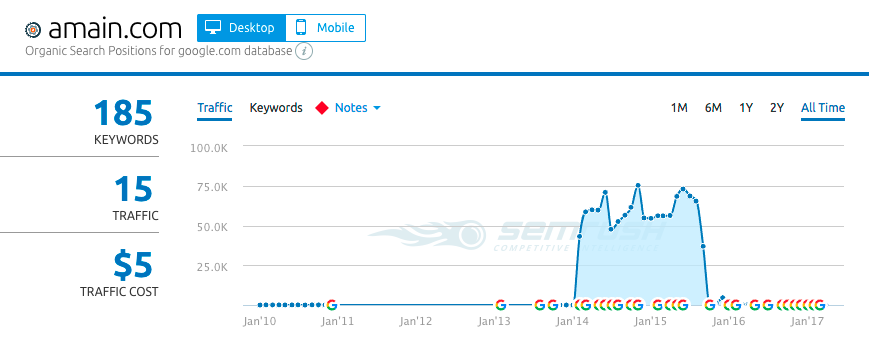 Their traffic stagnated, hovering around 60-75,000 visitors per month. All the gains from Stephan's optimization work seemed to have been lost.
Back on the Road to Success
Based on their initial success, AMain knew that the SEO structure of the site was sound. But the reason that the site wasn't performing continued to elude them.
Then, a deep dive into Google Search Console revealed something odd: Google was registering millions of non-existent backlinks between amain.com and amainhobbies.com.
Could this be the real reason that amainhobbies.com was performing so badly?
After implementing a painstaking strategy to manually remove the dead links, AMain worked with Stephan on a plan to regain their rankings, this time targeting only the most valuable keywords.
The Results
After they began to remove the dead links, AMain noticed an improvement. The site surged in the rankings, almost immediately landing on the first page for all those lucrative terms they were previously missing, like "traxxas".


You may be expecting this case study to end with a note on how much AMain's traffic increased. But that's not what happened at all.
In the end, Stephan's recommendations did not increase organic traffic to the site. In fact, when compared to 2013, there had been a small decrease in traffic.
Instead, something better happened.
While overall traffic did not increase, the quality of traffic did.
There were less people landing on AMain's site, but more of those people were ready to buy.
AMain is now seeing a dramatically higher conversion rate, and higher sales figures.
In addition, they have been able to reduce their ad spend by tweaking their paid advertising strategy to achieve a lower CPC coupled with a higher conversion rate.
All in all, they are seeing more sales and combined with lower advertising costs, they couldn't be happier!
AMain CEO Kendall Bennett even agreed to provide this video testimonial for Stephan: