Help yourself to some awesome free resources that may very well be game-changers for your company's or site's SEO efforts. Learn what to look for in a new SEO hire, how to review their work, and what SEO tools are essentials to compete. This is super valuable content for the siteowner that is looking to improve rankings, traffic, and conversions.
SEO Hiring Blueprint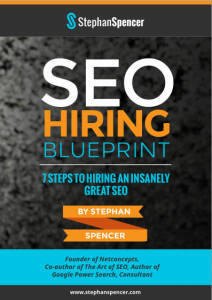 Find it hard to find a truly expert SEO consultant when you know little about SEO yourself? Here are Stephan's top tips and tricks to measure whether an SEO consultants claims are worth their salt. Save your company thousands in wasted consultant fees and lost leads due to bad SEO advice or implementation. 
SEO BS Detector
These SEO Myths Must Die!
5 Killer SEO Tools