Free Book: Top SEO Consultant Reveals His Ninja Secrets So You Too Can Unlock The Full Power of Google Search!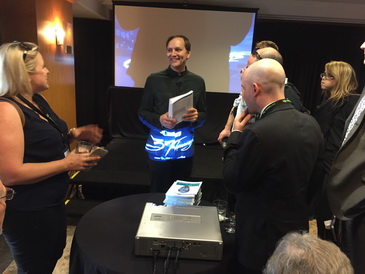 Almost everyone uses Google, but very few know how to truly leverage Google search. With this essential guide to finding anything and everything with Google; you'll not only save valuable research time but you'll also acquire little known expert techniques to zero in on hard to find information. Your guide, master SEO practitioner Stephan Spencer, takes you on a step-by-step tour that will turn you into an accomplished finder of online information, giving you the ultimate competitive advantage.
Get started with mastering Google search by claiming your FREE copy of Google Power Search. All you need to do is click the "I Want My Free Copy" orange button. Enter your name, address, and answer a few simple questions. That's it!
"Stephan knows the ins-and-outs about Google like nobody's business."


Danny Sullivan
Former Editor In Chief, SearchEngineLand.com, and producer SMX: Search Marketing Expo
Google Power Search takes you beyond the Google search box to amp up your online searches. You'll learn all about powerful search-refinement features that will allow you to fully take control of your search engine results. And since Google Power Search is packed with real-word research examples, you'll learn techniques ranging from simple Boolean logic to URL parameters as well as other advanced tools.
If you want to truly want to wield the full power of Google search, take advantage of this offer and grab your FREE copy of Google Power Search while it's still available.
Claim Your FREE Book Now and
Get These FREE Training Bonuses
BONUS ONE:
Free module of The Stephan Spencer SEO Audit Course
Learn how to find any traffic crushing spammy backlinks you may have as well as how to zero in on the best type of backlinks you need to super-charge your site's growth.
BONUS TWO:
Advanced Keyword Research Masterclass
In this masterclass I spill the beans on exactly I find the best keywords for my clients. We'll walk through the 4 critical elements you'll need for the perfect keyword strategy for your site.
"Google Power Search is a searcher's tour de force packed with surprising new information even the most advanced Google users will learn a great deal from."


Brett Tabke
Brett Tabke, founder and CEO of Pubcon, the premier optimization and new media conferences
"Stop wasting money on high priced competitive research services. Google Power Search shows you how to dominate your competition through the powerful and secret tools Google has to offer."


Zac Johnson
Zac Johnson, Superaffiliate and Blogger at ZacJohnson.com
What is Google Power Search?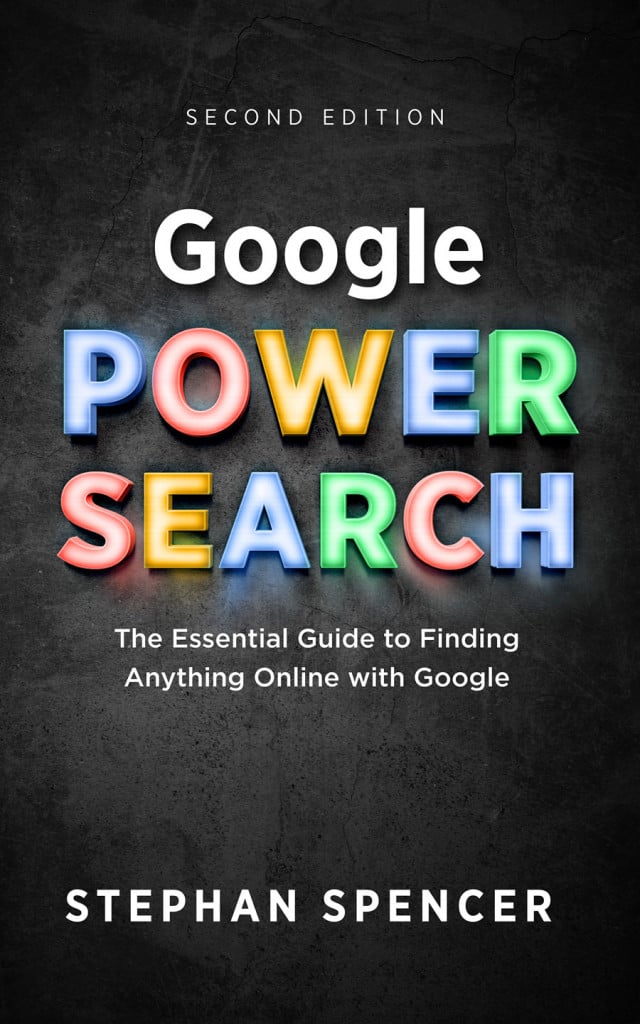 Google Power Search was originally published by O'Reilly, in August 2011. Its second edition, released in October 2017, includes massive updates, expanded topics, and the latest Google master tips.
Behind Google's deceptively simple interface is immense power for both market and competitive research—if you know how to use it well. Sure, basic searches are easy, but complex searches require specialized skills. This concise book takes you through the full range of Google's powerful search-refinement features, so you can quickly find the specific information you need.
Here are just a few of the secrets you'll learn inside your FREE copy of Google Power Search:
Incorporate advanced search operators such as filetype:, intitle:, daterange:, and others into your queries

Explore the breadth of Google through auxiliary search services like Google News, Google Books, Google Images, and Google Scholar

Acquire advanced Google skills that result in more effective search engine optimization (SEO)
What the Experts are Saying
"Don't let the tidal wave of information swamp you. Learn the secrets of a search ninja from a master practitioner, and dominate your competition!"


Tim Ash
Author of Landing page Optimization, CEO of SiteTuners, Chair of Conversion Conference
"The definitive guide to learning how to use Google as a research tool. Stephan covers it all, and no matter how much you think you know about it now, you will learn how to do it even better using this book."


Eric Enge
CEO, Stone Temple Consulting, and co-author The Art of SEO
"Google makes finding information on any topic fast and easy, but not every situation for finding information is the same. Google Power Search will teach you the latest tricks and techniques for getting the most out of your research without getting lost in all the blue links. Learn powerful techniques compiled and explained by an author whose practical knowledge will ensure you get to the right answers quickly. This book is an essential resource for the student or professional who wants to add to their skills and be more efficient and productive."


Jeremiah Andrick
Senior Manager, Online Customer Acquisition, Logitech; and former Program Manager for Microsoft Bing
"If you attend Stephan's talks, you will hear him drop bits and pieces of very valuable knowledge that can save you a ton of time when using Google. All of that knowledge is compiled into this book. It will take you from a novice Google user to an advanced Google user who can find his way around the web effectively."


Khalid Saleh
CEO, Invesp
"Google Power Search is exceptionally comprehensive–so much so that many Googlers will likely learn operators, tips, and tricks from it! But more than that, Stephan makes the material useful and applicable by providing real life use cases for professionals of all kinds."


Rand Fishkin
CEO and Founder, SEOmoz
"Google Power Search by Stephan Spencer takes the guess work out of finding thing on Google.You'll be so good at it that people will ask you to search for them! A must read for all Google users."


John Chow
Super Blogger, johnchow.com
"I found at least two useful tips on every page of this short and sweet book. The market research chapter should be required reading for anyone who plans to spend any time or money on a new business."


Howard Jacobson
Co-author of Whole: Rethinking the Science of Nutrition, co-author of Google AdWords for Dummies
"Everybody has access to Google. But not everybody has access to the mad Google skills Stephan Spencer has honed over the past dozen years. Read this book to find things faster and become more knowledgeable, hirable, promote-worthy and just plain interesting."


Jim Sterne
Producer of the eMetrics Marketing Optimization Summit, Chairman of the Web Analytics Association
" There are few SEOs in the industry who can match Stephan's depth of experience. Anything he writes, I read."


Adam Audette
President, RKG
"If you are looking to unlock the power of the world's largest search engine, there is no easier and more robust way to learn how to do it, then this book."


Seth Besmertnik
CEO and Co-Founder, Conductor
"I love geeking out with Google's immense capabilities. This is by far the most comprehensive resource I've seen on the subject."


Will Critchlow
Co-Founder of Distilled
"After 10 years of using Google, and 10 years of working on Search, it turns out there are still things about searching on Google that I don't know! Let Google Power Search make you smarter, quickly."


Avinash Kaushik
Author of Web Analytics 2.0, Web Analytics: An Hour A Day
"The myth that most humans only make use of 10% of their brains has been busted. But Stephan Spencer's new book, Google Power Search, has confirmed that most humans only make use of 10% of Google's immense power to organize the world's information and make it universally accessible and useful. You will learn how to use Google to find documents people thought weren't public, complete a market research scavenger hunt, and even find people to link to you. This small book lives up to its big promise of being 'The Essential Guide to Finding Anything Online with Google'."


Greg Jarboe
President and Co-Founder of SEO-PR, Author of YouTube and Video Marketing: An Hour a Day, and Member of the Faculty at the Rutgers Center for Management Development and Market Motive.
"How often do you get asked a question that is as simple to answer as hopping over to Google and doing search? Most people don't push Google much further beyond the search box. That's a tragedy. Thankfully, there are people like Stephan Spencer and a book like Google Power Search that will turn you from a searcher into a finder. Amaze your friends! Impress your peers!… and become your own digital version of Sherlock Holmes. Google Power Search makes it elementary, my Dear Watson."


Mitch Joel
President of Twist Image and author of Six Pixels of Separation and CTRL ALT Delete
What the Readers are Saying on Amazon
Unleashing The Power of Google Search for Non-Geeks by Arthur J. Kirsch

Stephan Spencer has figured out how to successfully explain a topic that normally makes a non-hardcore geek want to stick a fork in your eye! What amazing tips about how to get more out of Google searching. I just picked up a copy of his latest book "Social eCommerce" and had the pleasure of meeting him at the recent Digital Hollywood, Fall 2014. Stephan is the kind of guy you'd love to know when you have a technical issue you fear undertaking. In person, in print, he's the real deal.
---
Extreme value from a small book by ThunderSam

I started reading this book very skeptically. I've been using Google for years and can usually find what I'm looking for so why do I need a book about search? Well, I needed it. Every chapter is jam packed with incredible information on how to use Google to get the most out of the internet. I learned a ton and the quality of my search results has significantly gone up. I also learned some of the backdoor secrets of Google such as how to find all sorts of documents companies think they're hiding but Google can find them.
---
Solid resource for searching online by Shawn L. Huber

This is a very short but informative book on how to get the most out of search with various search query strings. For an SEO like myself, this is invaluable in researching not only my sites, but my competitors as well.
---
An essential guide to finding anything online with Google! by AzonReviewer

Do you want to become a Google search ninja? Then you definitely have to check out Stephen Spencer's book! On less than 60 pages he teaches you the search operators and how they can be applied for actual use cases. I read the book and in an instant couldn't wait to apply what I learned. Even though I consider myself quite web savvy, I discovered new and exciting strategies I can apply to get more out of Google in less time. The book is a great help for people who want to take advantage of the Google search tools!
---
Great by David McAllister

All the info here is great to know and is clearly explained. I've always wondered how to improve searches in the ways shown in this book.
---
Excellent for Google Beginners by Tim Bonansinga

Good, clear presentation of Google tools and methods. I recommend as a starter for the person who wants to start the trip toward Google mastery.
---
Very informative! by Erica Robyn

I wish I had this book while I was in middle school/high school/ college! Very informative! Definitely worth buying a copy if you are into research or school!
---
SO, YOU MIGHT BE WONDERING…
What's the catch? Why am I giving the book away for FREE?
1. There's nothing out there like this book. Frankly, I'm tired of seeing people fumble with searching on Google. This book is my contribution to making your life easier and more efficient.
2. Being completely honest here. I'm well known in the SEO industry, but I may be new to you and as a savvy marketer I'm always looking to expand my reach. (BTW: Good to meet you!)
3. I'm a geek and love to share my tips! Yes, I admit it, I'm a total geek, not just in SEO but in topics like bio-hacking as well. I'm always striving to get the most out of not only technology but also life! If that appeals to you then you'll love the book.
Thanks for taking the time to read this page.
I hope you enjoy the book!